On our Tiger themed day,
the class just couldn't get enough of this book:
Written by: S.J. Fore
Illustrated by R. W. Alley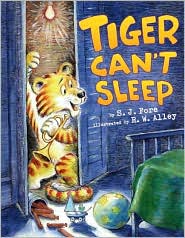 This fun story is about a little boy who can't sleep because there is a tiger in his closet. Not a scary tiger, but a
noisy
one--
crunching
potato chips, playing the tuba and even doing cartwheels. Will this silly tiger finally quiet down and let a very tired boy sleep?
Recommended for preschool-2
nd
grade.